MAKE HISTORY A STORYTELLING ADVENTURE FREE sample stories or purchase.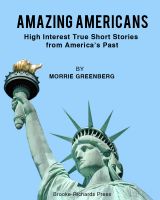 only $2.99
Search online for this e-book:
"Amazing Americans
High Interest Short Stories"
Twenty-one high interest true short stories that feature exciting personalities from America's past. Each personality made unique contributions to America, and their stories are recounted in exciting terms.
or, use Google to search for
"Amazing Americans, Greenberg"