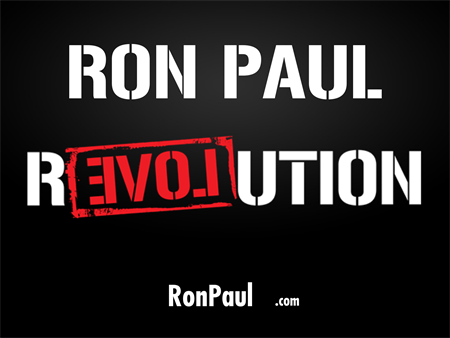 Ron Paul has been talking about homeschooling lately. The man whose ideas put the backwards'E' and 'L' in Revolution is hawking a new book called The School Revolution.
Below are the various media outlets covering former Texas Representative Ron Paul. The Paul children, including Kentucky Senator Rand Paul, were not homeschooled, and Ron Paul acknowledges he likely wouldn't have homeschooled if that had seemed a possibility at the time.  His misgivings seems a bit odd, as he's also marketing a homeschool curriculum. He said "even if the conditions have been bad in our public schools…we probably wouldn't have homeschooled."  But Ron Paul is pushing for 20% of 'school-age' population to homeschool. Non-governmental intervention seems to be the Ron Paul theme across the board, including children's education.  His agenda is most definitely taking advantage of the free market, as well.
One of the talking heads asked: "What's the correlation between homeschooling and getting a better understanding of the Fed?"  Amazingly, the questioner sees a gap in that relationship.  Another could only see the harm of a "vast drop of women in the work force." She's concerned about "advocating homeschooling on this level when women are having such a hard time staying in the work force."  Katy Kay was looking at the female work force, while Paul was talking education. The interview was based on his new education book.
Besides the fact many women and men work from home, while home educating, one has to wonder why her concern isn't more related to what parents want to do, rather than counting how many and which gender are in the traditional work force.  Possibly, this is the status quo economics lesson that gives Ron Paul concerns.  I've always wondered why our legislators don't help families find a way to stay home with their children as long as they wish.  Instead , there is a helter skelter rush into the 2-car garage home and ensuing traffic jams  in scheduling.  That pace does keep accredited day care centers and preschools going strong.
So the spin began from the MSNBC interview.
Female anchor confronts Ron Paul over plan for women to quit work en masse and home school By David Edwards on Raw Story
BBC anchor Katty Kay on Thursday asked former Rep. Ron Paul (R-TX) if his libertarian plan to have 20 percent of children home schooled made sense because so many women would have to drop out of the work force, but the former congressman insisted that even a woman living at a shelter with two jobs could find a way to do it if she worked hard enough.
I didn't hear him say that.
Ron Paul: More women should sacrifice career to homeschool kids By Jennifer Wadsworth in the San Francisco Gate's blog:
America needs more home-schoolers, ladies. Yeah, you probably have a day job and can't afford to take the time off to properly educate your offspring at home. But that's just an excuse, you wimp. Even a woman working two jobs and living at a homeless shelter could find time to teach her child. Well, according to a twist of reality espoused by former Rep. Ron Paul (R-Texas) anyway.
My ears heard – "choice", which we currently have in education across the US.  But speaking of twists of reality, Ms. Wadsworth should have watched the video.
The Fiscal Times covered Ron Paul's plan:
Ron Paul Hawks Homeschooling As a Plan B By Maureen Mackey
Homeschooling is now a movement. It's the "one authentically radical social movement of any real significance in the United States," according to an article last year by Kevin D. Williamson in the National Review.

But not everyone is ready to embrace this movement. Many serious-minded parents who might want to be homeschoolers can't. They try it and drop out. Most have to work; others are not capable of teaching a fish how to swim let alone instruct a teen on advanced calculus. Still others have children with special needs and can't go it alone.

At the core, parents want their kids to be in groups – they want them socialized, ready for human challenges as well as academic ones.

Homeschooling is nothing if not isolating, which is exactly why some are committed to it.
Homeschooling is nothing, if not parents rejoicing in community opportunities for their children.  I'm not sure how to approach – "parents want their kids to be in groups." I'll let that one stand on its own.  Further, special needs parents are flocking to homeschooling, because they and their children often felt isolated and unappreciated in the school environment.
Charlie Rose also interviewed Ron Paul on his book. The actual discussion about the current approach of the education system and Paul's ideas for the future starts around 13 and 1/2 minutes into the discussion. Ron Paul is hopeful about homeschooling, while acknowledging it's only an option that a minority of families are able or wanting to choose. The message appeared to be that not everyone can or wants to homeschool, but it's a choice made by parents who take their children's education as seriously as public school parents.  Former Representative Paul said he wants to protect all educational approaches.  I can appreciate that.